The event I finally made my gold/black dress for was a couple of days. And late nights and early evenings call for a more relaxed type of dress. One I did not have in my closet, as most of my events are just the outside day affairs or balls.
I finished my gold ensemble (at least to the point of being wearable) a week before I had to leave. So of course, I decided I probably could made a morning gown in that time, right?
What helped was that I already had the fabric, the pattern and the plan.
A couple of months ago, a friend decided some fabric from Fabriclore, an Indian fabric shop, selling a wide range of beautiful fabrics. I joined in with that order, and got a couple of beautiful cotton prints, including one I knew I wanted to use for a morning/tea gown.
It's a light cream crinkled cotton with a distinct texture. It's very drapey, not quite sheer but near to it, and it has a beautiful hand-block print of little blue and green flowers on it. Morning gowns are often quite full and flowy, without the normal Victorian structure, so I knew it'd be perfect for that.
Pattern wise, I had seen Cynthia from Redthreaded adapt this Wearing History pattern for a morning jacket into a full dress. She has a video about that process here. I was lucky enough that the original pattern (which only comes in the one, original, size) was pretty much my size, so I knew I wouldn't have to do too much to make it fit me. And Cynthia's method of lengthening the jacket worked so beautifully, that I knew this would be the perfect solution to getting a dress instead of a jacket out of an existing pattern.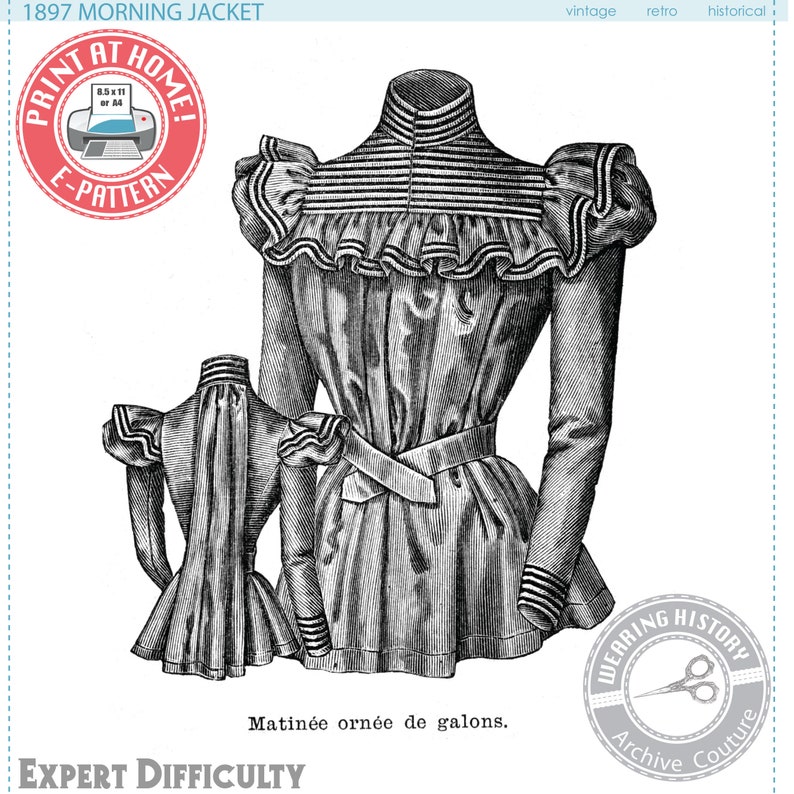 The pattern is late 1890's, and I particularly love the back design with the pleats which are a historicism echoing 18th century Watteau pleats. You see this a lot in the 1890's, and in informal gowns in particular. This dress is also unfitted at the front, with just a belt, which is perfect if you want to wear this both with and without a corset. Although some of these dresses are completely unfitted at the waist, I do appreciate the belt to 'break' the silhouette a little bit. Below is a beautiful period example showing the typical types of pleats in the back: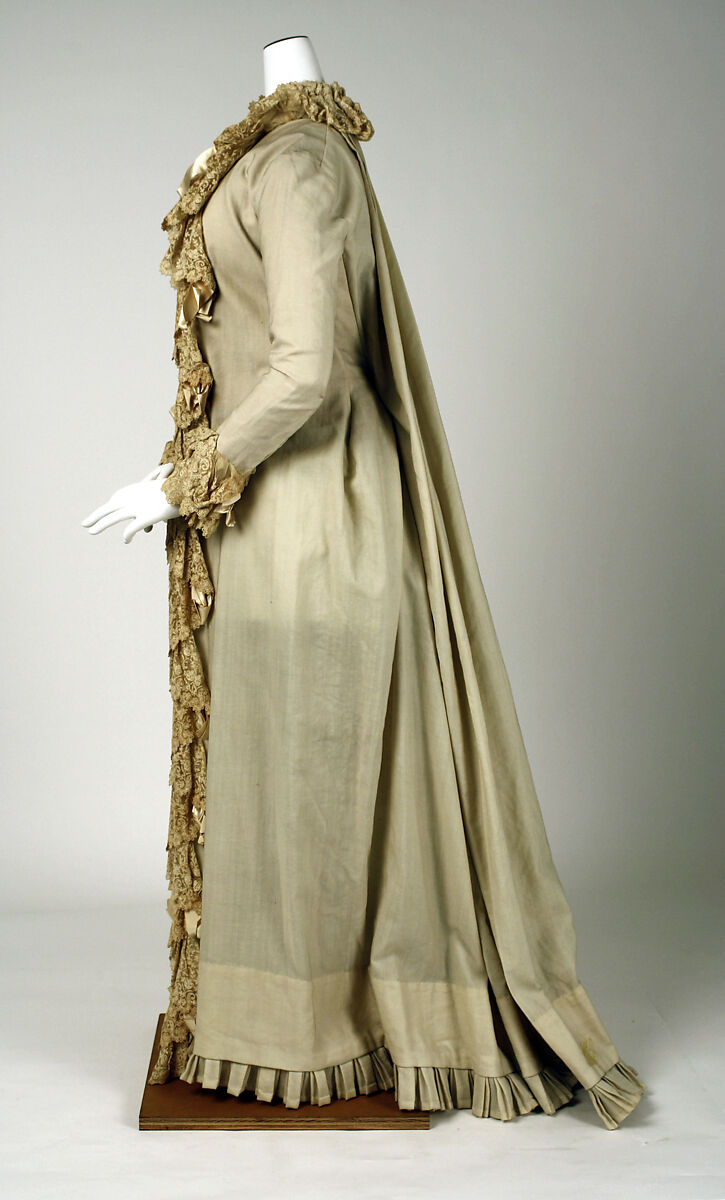 I made very few pictures of the process of making this, as I was on a tight deadline and Cynthia already has a video about how she made it. I chose to line the top (basically the original jacket part) with a plain white cotton. I also followed her method of gathering the bottom front and stitching it down a little lower, to create a tiny little ruffle. For the back, I chose pleats instead of the gathering shown on the pattern envelope, to make it look more like the extant dresses with pleats that I like so much. The pleats are stitched down to the lining to help them stay in the back a bit.
The skirt of the dress is not lined, to help with the flowy-ness. As the fabric is a little sheer, I did wear it with a petticoat underneath. This helps give some volume without weighing down the actual skirt of the dress.
I didn't have time for trim, which I still might add later on, but for now I was really happy to finish it on time. I even opted to machine-sew the button holes, because although I like hand-sewn ones, I just didn't have the time. Sometimes it's good to allow yourself shortcuts if you know it'll save you on stress and sleep while finishing something on time. And I'm really happy I managed to get this done in time to wear it, as I got a lot of use out of it as both an easy gown for breakfast and one for some relaxing after the dancing had finished in the evening. It was a wonderful lounging garment at a wonderful event!
A picture on the last morning, by Timelight Photographic:
And two more with my own camera, to show the back: