After finishing my split cycling drawers, I had quite a bit of wool left over. So I figured that I could actually make a shirt and vest to go with it, for a slightly more summery version of the outfit (as opposed to a heavy sweater). I made the blouse last summer, and now finally got started on the vest!
I'm using the 1890s vest pattern from Black Snail patterns.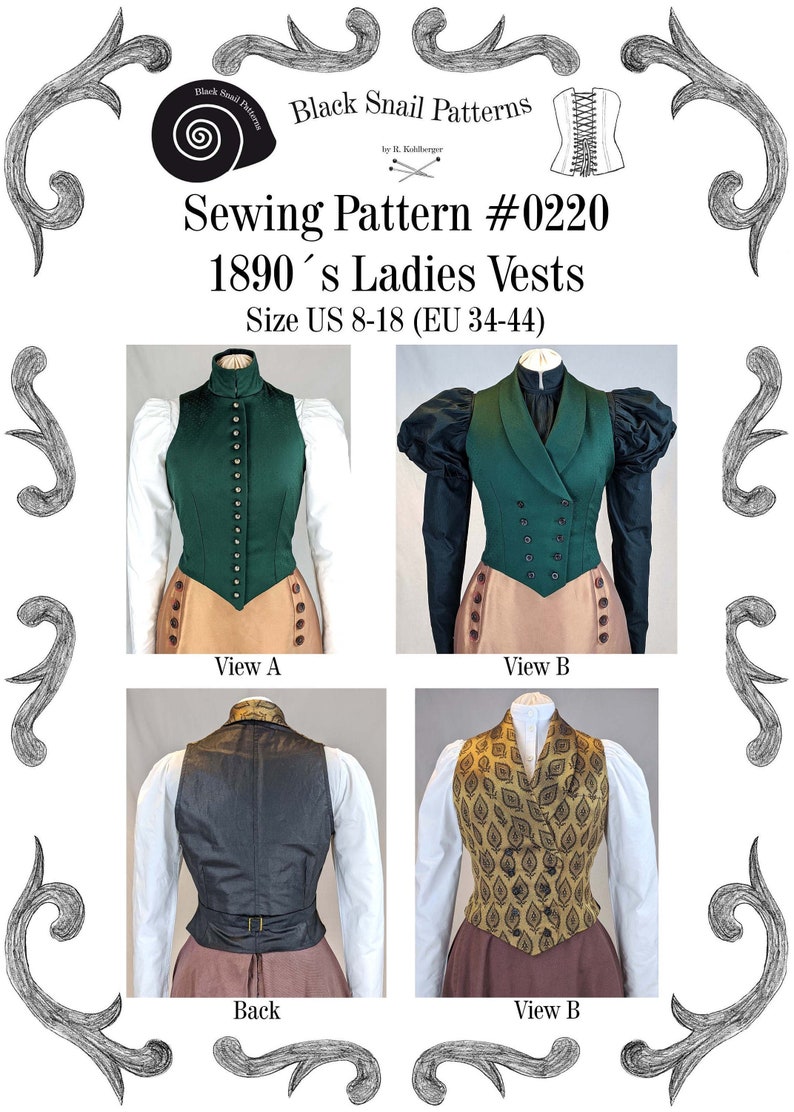 It's made to go over a corset, and has a beautiful line. I went for the double breasted view (B), with a small pocket for a watch. This pattern covers a number of tailoring techniques, and welt pockets, which were all new for me.
I started with a mock-up, and actually found I had too much room in the upper chest area.
I took out a bit of room there by basically putting a dart in the pattern. This slightly rotates the angle of the shoulder, taking out space where I needed without needing to put a dart in the fabric itself. (Thanks to Foundations Revealed for helping out with this!). Other minor changes were to let it out just a little in the hips, and take it in a tiny bit right under the arm.
I fitted the pattern both with and without a corset. My plan is to make it fit just right without a corset on, and then when wearing a corset to use the little straps at the back to pull it in. I won't wear my corset very tightly anyway as this is more of a sporty outfit, and this way I have the option to wear it in more history bounding situations as well. I'll have to see whether I add boning to the vest at some point to keep it smooth without corset underneath. I'll see how all the layers work together first though, it's difficult to estimate whether this will be necessary when a single layer of cotton is so different from wool, cotton and interlining together.
After fitting and pattern adaptations, it was time to cut the fabric! I cut the wool and the horsehair interlining, and then discovered that the brown cotton I'd planned to use for the back was nowhere to be found. I thought I had some leftover from lining the split skirt, but apparently not.
So while I'm waiting for new fabric to arrive, I decided to practice the pocket instead. Noelle from Costuming Drama made this vest and shared her process on her YouTube channel, including her iterations of pocket practice. I have a tendency to just dive in with new techniques, but I'm glad I did try it out, as I now actually understand how these pockets work.
I made one version in plain cotton (from scraps, which my iron then decided to bleed on, so forgive the slight stains):
And then a version with my wool:
My main takeaways from practicing were to mark well (a thin chalk pencil is a life saver here), stitch very precise and snip corners all the way. Also, when working with the wool, to perhaps use some fray-check on those snipped corners, as the wool has a tendency to unravel quickly. You need to snip corners all the way to not get any puckering, but there's a fine line between not cutting enough (puckering) and cutting too much (fraying holes)!
These welt pockets are made in the 19th century way, which is slightly different from the modern method. I believe the main change is that the welt itself is folded inwards and stitched down, rather than out behind the fabric to be secured with the pocket itself. This way is not necessarily easier , and if you want a good tutorial on the modern way, I definitely recommend this video by my friend Nikki, who explains how to do it step by step! (She also includes a bit of the outer fabric beneath the welt, so your pocket fabric doesn't show, which I'm not using either).
Now these are practiced, the next step is to cut the back, and the flatlining of the front, both of which I need to wait for the new fabric for. Stay tuned for further progress once those arrive!